CNC Wood Lathe/3D scanner/Tools sharpener
CNC Wood Lathe/3D scanner/Tools sharpener
Standard Binocular Camera Type 3D Scanner
Brief Introduction:
3D scanner
binocular camera type
high-brightness LED cold light source
scan dark or even black objects
For wood/stone carving, auto and ship design, mold manufacturing,etc.
INQUIRY NOW
Applications
The camera-type 3D scanner combines the advantages of high-speed scanning and high precision, and can freely switch different measurement ranges. Multiple splicing methods make it perfect for scanning and measuring large objects such as small parts to the whole body. It has a high price-performance ratio and is suitable for industrial design of automotive parts, mobile phone shells, crafts scanning, household appliances, and electronic products. , Mold design, reverse engineering (copy number), rapid manufacturing (precision engraving, 3D printing), etc ...
Features
1) The product has a long service life, using high-brightness LED cold light source, low heat generation, high stability of scanning accuracy
2) The hardware is stable, the system is small, and it is easy to disassemble and bring it to the measurement site.
3) Can scan dark or even black objects. Most objects can be scanned directly without surface treatment.
4) High scanning efficiency, can complete object scanning in a few minutes
5) The dual cameras use strict hardware synchronization mechanism to make the measurement data clearer;
6) Adopting aluminum alloy body, the coefficient of thermal deformation is small, which guarantees higher accuracy and stability of the equipment.
7) Fully automatic splicing of multiple point clouds.
8) Support automatic selection of the best data for overlapping point clouds, automatic cropping, high accuracy of multiple data fusion, no layering and stripes
9) The firm and compact appearance design makes the device more visually impactful, and the device is beautiful, light and durable.
10) Equipped with a lens protective cover to prevent the equipment from being accidentally dropped and causing damage to the lens.
11) Easy to learn and easy to use, system operation can be learned within 2 hours, and it can be used skillfully within 1-2 working days
12) Multi-purpose machine, multiple scanning specifications, suitable for scanning objects as small as a few millimeters and as large as a few meters
13) Rich measurement output data interface: The measured point cloud data is ASC, STL, PLY, IGES, OBJ, DXF, etc. Compatible with common 3D software on the market.
Single scanning range

400x300

200x150

100x75

Scanning precision

0.015~0.02

0.01~0.015

0.01~0.015

Scanning object size

1000mm~5000mm

300mm~1000mm

50mm~300mm

Camera resolution ratio

1300,000X2

Lens resolution ratio

3000,000 (Japan imported)

Raster light source

LED cold light source, life time about 3500 hours

Splicing way

Ball center automatic stitching

Scanning time

 <5s

File format

 ASC ; PLY ; STL ; OBJ

Application

Automobiles, large molds, large castings,

plastic parts

Wood carving, furniture, soles, small appliances, medium-sized molds

Fine wood carving,

small appliances,

heels, mechanical parts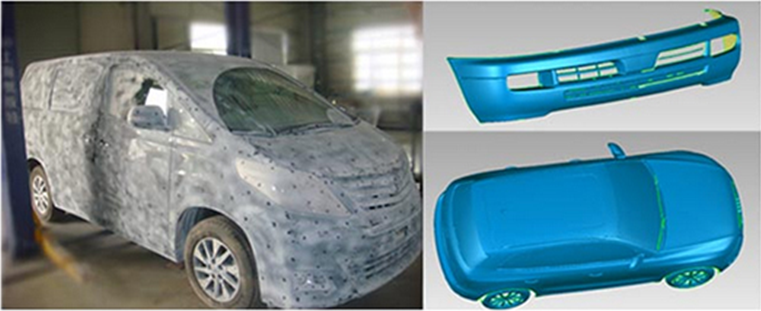 Inquiry now